Nutrition getting from grain flour is an integral part of our healthy diet. Nowadays, many consumers are getting focus on nutrients such as fiber, vitamins, and other micro elements. Seed cleaning is the first step in grain processing whether you want to save it or process it for commercial purpose. It is inevitable that after harvesting grain seed like wheat, maize is maxed with some impurity such as foreign seeds, leaves, stones, sticks, buck and sand. A high quality grain cleaning machine is a necessary facility. No a seed cleaning machine can eliminate all types of impurities. Generally, you need several types of cleaning machine. For example: vibrating screen is used to separate particles in flours, oil, chemical, grain storage and animal feed. And another grain cleaning equipment, air separation is professional for low-density particles from granular materials. Destoners just as its name, is good at removing stones.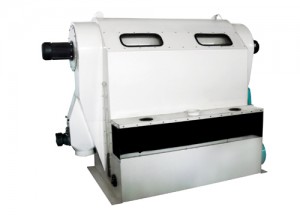 Generally, the grain cleaning equipment is equipped with other components like hopper, screen, and air channel in order to remove other types of foreign materials. Usually, grain cleaner is made up of stainless steal which makes it easy to clean.
Grain cleaning equipment works by using the difference of all types of impurities in color, thickness, weight, and density. Color sector works by utilizing delicate cameras to pick up the different color material. Air separator used to remove particles by sucking light particles with air channel in motion.
Grain cleaning equipment is simply to operation and maintain. Its price depends on several factors such as materials, work efficiency, capacity and also original places. Usually, grain cleaner with the equal specification costs much less in China. However the work efficiency is hard to reach 100% in practice according to a series of limited factors. Grain cleaner with 80%-90% is acceptable in the normal grain process.